back to exam training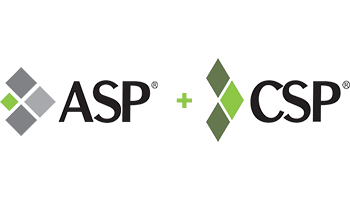 Associate Safety Professional + Certified Safety Professional examCORE Connect
ASP + CSP examCORE Connect offers a $99 (USD) savings when you purchase the ASP and CSP examCORE training programs together. Prepare the right way for both the ASP and CSP exams!
Together, these online, self-paced courses will save you valuable study time and will enable you to effectively put safety and health principles to work in your organization.
ASP + CSP examCORE Connect provides nine months of access to training modules designed to help you succeed at both the ASP and CSP exams . The examCORE Connect program includes hours of video training in several subject areas, pre-and-post-assessments, and learning exercises built to help you retain safety and health fundamentals. Prepare with examCORE Connect and feel confident that you are ready for your examinations!
Need more time to study? We have made it easy to extend your access with a three-month package.
BCSP examCORE training is specifically designed to not only improve the knowledge and skills of the working safety practitioner, but also to successfully pass the certification examination . It was built by 17 subject matter experts (SMEs)* with years of combined safety, health, and environmental (SH&E) experience. The SMEs involved include published authors, academics, and practicing SH&E professionals, all dedicated to a safer world through professional advancement.
*To ensure impartiality, BCSP utilizes subject-matter experts for the development of the examCORE program and products who are independent from the certification examination development process.
The examCORE curriculum is grounded in the subject matter of certification exam blueprints, BCSP exam references, and the latest in international safety and health standards.
What Makes examCORE Different?
Adaptive or Standard Learning
Take a pre-test and learn the areas you will need to focus your study, or choose to go right to the learning modules and challenge questions.
Learn on Your Own Schedule
With training available on your desktop or tablet, you will find the time to prepare. Let examCORE be your partner when life happens.
Interactive Video
Focused training modules and SMEs guide you through essential topics and culminate in challenge questions.
Topics Covered in ASP + CSP examCORE Connect
Through this course, you will learn the most important concepts found in the latest ASP and CSP blueprints, including the following ASP topics:
Exam Overview
Math Principles
Statistics
Chemistry
Biohazards
Business Principles
Chemical Hazards
Climate Conditions
Communication and Group Dynamics
Confined Space
Control Hazardous Energy
Cranes and Rigging
Disaster Preparedness
Electrical Safety
Environmental Management
Ergonomics
Excavation Trenching and Shoring
Fall Prevention and Protection
Fire Protection and Prevention
Fleet Safety
Hazard Communication
Hierarchy of Controls and PPE
Hot Work
Incident Investigation
Inspections and Audits
Law and Ethics
Machine Guarding
Noise
Performance Metrics
Physical Security
Physics
Powered Industrial Trucks
Project Management
Radiation
Risk Management
Scaffolding
Statistics
Substance Abuse
Training and Education
Ventilation
Vibration
Wellness Programs
Workplace Violence
You'll also learn the following CSP topics in examCORE Connect:
Calculator Tutorial
Math Principles
Applied Statistics
Physics
Chemistry
Anatomy and Physiology
Body Systems Exposure
Business Continuity
Business Principles
Chemical Hazards
Common Workplace Hazards
Communication and Group Dynamics
Environmental Management
Epidemiology
Ergonomics
Exposure Assessments
Fire Protection and Prevention
Fleet Safety
Gap Analysis
Human Performance
Industrial Hygiene Sampling
Insurance Principles
Law & Ethics
Life Safety Principles and Standards
Management of Change
Microbiology
Organizational Culture
Performance Metrics
Prevention Through Design
Process Safety Management
Project Management
Research Methodology
Risk Management
Risk Treatment and Controls
Safety Management Systems
Substance Abuse
Sustainability Principles
System Safety
Toxicology
Training and Education
Workplace Violence